Our Materials
Learn More About
Luv Aj uses only the highest quality materials at an incredible value
Our Metals
BRASS

While our Luv Aj FINE Collection is available in 14K Gold or Sterling Silver, our Luv Aj pieces are all cast in brass. Brass is a widely used alloy for jewelry- it is mainly composed of copper and zinc. The ratio of copper to zinc can vary to produce all different types of brass. Brass is great for costume jewelry because it's easy to clean, super durable and will last a long time with the proper care. We like brass because it's affordable, sturdy, and great for costume jewelry pieces. Please note that all our brass jewelry is totally nickel-free and cadmium-free as well!


WATERPROOF PLATING

All our jewelry is considered waterproof and tarnish-resistant! We use IP Plating which stands for Ion plating. This is a Physical vapor deposition (PVD) process and the jewelry is plated with at least 0.1 micron of 18K Gold or Silver, plus e-coating which qualifies it to pass waterproof tests.

Compared to traditional techniques, ion plating is very durable. Studies and experimentation have shown that this method can be up to eight times more durable and effective. Ion Plating, also known as IP Plating, consists of a thinner layer of coating, making it a great lightweight option for jewelry but also a sturdy option for daily wear. IP Plating is also an excellent option for costume jewelry because it is hypoallergenic, which makes it an ideal choice for anyone who has sensitive skin.
Forever Metals
14K GOLD

Solid gold is the ideal precious metal for everyday wear. 14K Yellow Gold contains 58.5% gold and 41.5% alloy and is usually the most popular choice for fine jewelry pieces. 14K White Gold is around the same percentage of pure gold as yellow gold and is finished with Rhodium Plating, giving it a bright white coloring. 14K Gold is the highest quality metal offered over the Luv Aj FINE assortment.


STERLING SILVER

Sterling Silver is 92.5% pure silver and the remaining 7.5% is composed of other metals like copper which make the metal more durable and less likely to scratch or bend. Sterling Silver gets its 925 stamp referring to the 92.5% of pure silver used to create the piece. We offer these items in regular Sterling Silver which have a 'silver' look and also Gold Vermeil-plated Sterling Silver which has a 'gold' look. Different from our traditional gold plating, our gold vermeil plated sterling silver is coated with at least 2.5 microns thick of solid gold. Sterling Silver can last a lifetime so we love this more affordable metal option for our Luv Aj FINE jewelry.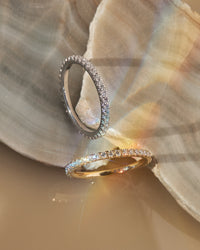 Diamonds 101
WHY WE LOVE DIAMONDS

Diamonds are a solid form of the element carbon found on Earth. Diamonds are the hardest known mineral and score a 10 on Mohs Scale of Hardness, making them an incredibly durable stone. Their brilliant sparkle and shine make them one of the most sought-after (and gorgeous) stone options on the market.


WHY LAB DIAMONDS?

Lab-created diamonds are 100% the exact same chemical composition as a natural mined diamond. They just differ on how they are created. Instead of extracting diamonds from countries like Africa or Russia, laboratories create their stones above ground, leaving zero carbon footprints, and ensuring an ethical and environmentally-friendly diamond. Each diamond actually grows organically in its own way, with one-of-a-kind inclusions and unique growth patterns. No two man-made lab diamonds are alike. Each is completely unique and natural. We decided to set our fine jewelry with lab-created diamonds because they are an amazing option when trying to maximize your budget, as these stones can be up to 10-15% less expensive than natural diamonds. Additionally, these are also the most ethical and sustainable option for a White Diamond there is. You know exactly where the diamond came from so there is no question about whether it was ethically sourced. All our diamonds are compliant with the Kimberley Process.