OUR COMMITMENT TO
Sustainability
Sustainability to Luv Aj means sourcing materials responsibly, adhering to environmetal and social standards across our manufacturing, and ensuring quality jewels every step of the way. See more below for an in depth breakdown of all the efforts we are taking.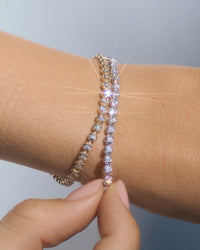 Manufacturing
OUR VISION
The first step in building a sustainable jewelry brand is to source materials responsibly. This means using recycled metals and ethically sourced gemstones and ensuring that suppliers adhere to strict environmental and social standards. Mining for precious metals and gemstones can have a devastating effect on the environment, including deforestation, soil erosion, and water pollution. Luv AJ ensures that we use eco-friendly materials and production processes that minimize our impact on the environment. Additionally, this lessens the quantity of trash that is produced during the manufacturing process.
OUR MATERIALS
All our jewelry is free from harmful chemicals and metals such as nickel, lead and cadmium.
Luv AJ produces in silver, brass and gold jewelry using recycled metals, which are obtained from post-consumer waste. By using recycled metals, the brand reduces the demand for newly mined raw materials and reduces the environmental impact of the production process.
Chains, gems, pearls, and stones all ethically sourced and for our fine jewelry pieces; and all our diamonds are lab-grown
Our boxes and packaging are eco-friendly and recyclable. We use ethically-manufactured vegan leather on all our carding
Guides & Certifications
We have our factories adhere to social compliance and environmetal standards and we are proud to have the following certifications for Luv Aj.
Quality Assurance
Our Mission
Luv Aj upholds top standards in quality and consistency. To maintain the utmost durability and safety of our jewelry, we conduct a series of tests using top-of-the- line testing tools.
Each batch goes through meticulous inspections, weeding out those that don't meet our standards. Luv Aj partners with sustainable suppliers who share our sustainability goals and are committed to sustainable practices.
OUR STANDARDS
Luv Aj requires a conscious effort to reduce the environmental impact of the production process. By creating a checklist and adhering strictly to it, we ensure that our brand remains sustainable and eco-friendly as possible.
We use a 3D printing technique that minimizes waste and reduces the carbon footprint of the production process. This technique also allows for the creation of intricate and unique designs that would be difficult to achieve using traditional jewelry-making methods like hand wax carving.
With regular third party audits we are able to ensure our factories adhere to
our standards

Social & Human Rights
Through third party factory audits, we are able to provide the following records and documentation for all factory employees.
PRODUCTION RECORDS
EMPLOYMENT CONTRACTS
INSURANCE DOCUMENTATION
INFIRMIRY LOGS
HEALTH EXAMINATION RECORDS
SECURITY LOG BOOK
INSURANCE DOCUMENTATION
NON-PRODUCTION RECORDS
LEGAL PERMITS
EMPLOYEE LEAVE REGISTER
MACHINE MAINTENANCE RECORDS
TRAINING RECORDS