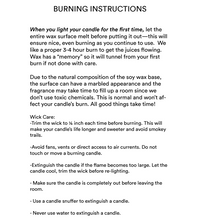 The Luv Aj Candle
Our very first limited-edition Luv Aj candle
Featuring our signature scent- smokey and sweet + truly intoxicating with notes of palo santo, hinoki, smoke, vetiver and a kiss of white grapefruit.


Non-toxic, pthalate-free soy wax with cotton wicks in recyclable glass. Only 150 made.
Our candles are domestically and ethically made in Los Angeles, CA. All candles are each hand-poured using 100% natural soy wax, non-toxic cotton wicks, and natural fragrance oils. Glass jars are 100% recyclable and made from recycled glass.

* Each candle may vary slightly due to the settling of ingredients and the hand-pouring process of natural soy wax.
Styled On Instagram