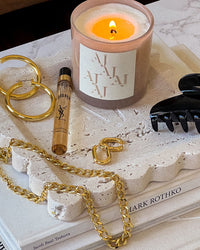 The Luv Aj Travertine Tray
Our very first limited-edition Luv Aj travertine stone tray
Crafted in stunning travertine stone and finished with a scalloped edge, this catchall tray is perfect for your jewelry, a candle, or as an addition to any chic tablescape. 
Expertly designed, this beveled plate showcases the elegant combination of natural marble veining and scalloped edges.
Center of tray features a monogrammed AJ 
The dimensions of the tray are 8" x 8" x 1"
Made from real travertine stone
* Due to the inherent nature of the stone, this product will display natural variations. Travertine, being a textured stone, includes fine holes and pits.
This product is sold out.
Enter your email address below to be notified when we restock:
Styled On Instagram